PPA 1    |   PPA 2 |   PPA 3 
Amherst College is located in Amherst, Massachusetts, a town of 35,000 people in the western part of the state. The college's 1,000-acre campus is adjacent to downtown Amherst. Since its founding in 1821, Amherst College has become one of the premier liberal arts colleges in the nation, enrolling some 1,600 talented, energetic and diverse young men and women.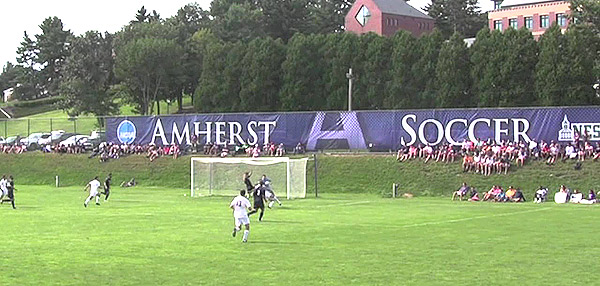 With the completion of the new King and Wieland dormitories and the renovation of North and South dormitories over the summer, the college has taken a major step forward in the Residential Master Plan.

Amherst College Dining Services offers a "scatter" servery concept. We strive to provide you with a positive experience each time you dine with us. At Valentine Dining Commons, players will enjoy a full range of menu choices. Menus are developed to offer low fat, vegetarian, vegan and heart-healthy options, in addition to the traditional selections. The inclusive meal plan offers players unlimited entry into the Dining Hall during the hours of operation.To honor its long-standing sports tradition and help ensure a superb athletics program for future and present students, Amherst completed in 1999 a $13.4 million renovation project for the renewal of the college's athletic facilities.
The project included construction of the new 8,000 square foot Wolff Fitness Center at the heart of Amherst's gymnasium complex. The two-level, fully air-conditioned facility is complete with a full range of new cardiovascular, Bodymaster and free weight equipment. The Center, which has been a boon to Amherst athletics, is widely regarded as the best such athletic facility in the NESCAC.Hitchcock Field is widely regarded as one of the best soccer playing surfaces in all of New England. Home of the Amherst College Men's And Women's Soccer teams, PPA is fortunate to offer such a historic field to use during it's camp activities. In addition, the new lighted turf facility, Gooding Field allows campers to play into the evening hours.